In the forefront of Tunnel boat design, Vee hull & vee-pad hull design and high-performance hull design technology for over 35 years, AR® has high performance clients in over 45 US states, and over 50 countries throughout the world. Tunnel boat and performance vee hull design publications and the world's only computer design program for tunnel boats, modified tunnel, modified vee-bottom (Mod-VP) designs, performance vee hulls and pad-Vee hulls.

Jimboat's world acclaimed papers on performance tunnel hull and vee hull design and setup tips are seen in dozens of performance powerboat publications and addressed in the AR® books, software and articles and newsletters.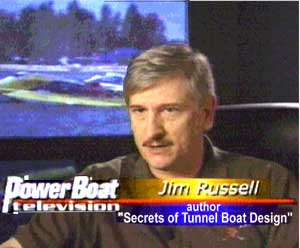 See author Jim Russell on SpeedChannel's 'Powerboat Television Show'



Interviewed by PBTV's host and F1 Champion, Mark Rotharmel.
For 35 years, Jimboat has written performance powerboat articles in most all of the major powerboat magazines... including: Powerboat, Hot Boat, Powerboat & Rib, RIB magazine, Family & Performance Boating, RaceBoat International, World of Powerboats, Extreme Boats,

Powerboat & RIB magazine

, Powerboat & Ski, Australian Powerboat, RC Boat Modeler, Scream & Fly,

BoatDesign.net, Propeller magazine

and other hi-performance boating magazines.

Experts in high performance powerboat design, performance analysis and performance prediction. Recreational and racing tunnel boat, vee hull and vee-pad boat design expertise. The "Secrets of Tunnel Boat Design" book and "Tunnel Boat Design Program" and "Vee Boat Design Program" computer software, the "History of Tunnel Boat Design" book, the "PropWorks2" propeller selection/speed prediction software, and the "Secrets of Propeller Design" book are available at AR's on-line store or by order form, or order by .

Jimboat is recognized for his advanced aerodynamic and hydrodynamic research and consulting on powerboat design, performance analysis, safety analysis, accident investigation & analysis, expert witness service, education/training.