STBD book

"Here is how to make your tunnel hull the best performing, the fastest tunnel hull design possible."

TBDP software




and




VBDP software

"The best performance powerboat optimization software available to tunnel hull & vee hull builders, designers , owners, drivers."

PropWorks2 software

"The best 'What will my propeller do for my boat?' software"

Vee hull articles

Free articles and publications for vee hulls

Tunnel hull articles

Free articles and publications for tunnel hulls

Feature Publications

Jimboat writes performance & technical articles in many worldwide performance powerboat magazines
---
AeroMarine Research® produces the most unique performance power boat design publications and computer software design packages. These products are popular throughout the world, and used by some of the world's best recreational and racing tunnel boat builders, modified vee-hull designers, builders, performance owners and racers! As an example, the AR Secrets of Tunnel Boat Design, the Tunnel Boat Design Software, and Vee Boat Design Software are just what will help perfect your work, and your performance - proven over and over again - in so many different applications!
Leading Research - AR® sustains the most advanced performance powerboat research programs in the industry. Whisker-spray drag analysis, Porpoising prediction, Vee-Pad design optimization, advanced aerodynamics and cavity drag analysis, dynamic stability, accurate performance predictions, hull design optimization, advanced Wind tunnel testing. AR® developments include unique algorithms that predict highly accurate aerodynamic & hydrodynamic performance and dynamic stability results specific to all types of hulls.
Improve your performance hull - get expert information to improve your race hull, optimize your performance boat. Consulting & Performance Reports available
Free Design Reports - Founder Jim Russell has written design articles and papers on every subject related to powerboat performance, and writes monthly feature articles in several powerboating magazines. You're free to get any of these reports and published magazine articles.
AeroMarine Research
The popular AeroMarine Research publications are specifically tuned to performance Tunnel Boat design, vee-hull performance and similar applications, such as the popular "Secrets of Tunnel Boat Design" book, and the remarkable "Tunnel Boat Design Program" software. We have been in the forefront of Tunnel hull, modified Vee-hull & Vee-Pad hull design technology for over 2 decades, and have distributed our popular books in over 45 US states and over 40 countries throughout the world. Our state-of-the-art design, research, and testing of aerodynamic and hydrodynamic applications to high performance Tunnel Hulls and modified vee-hulls remains unparalleled anywhere in the world. This global success is recognition that we are most proud of.
Tunnel Hull & Modified Vee-Hull design
The design of tunnel hull and modified Vee-hull configurations is complex and very time consuming when all of the important design factors are considered. The AR detailed design methods, performance prediction and analysis tools are all based on engineering aerodynamic and hydrodynamic principles, and so are equally applicable to all types and applications of the tunnel hull and recreational modified (VP) tunnel hull design - from working hulls & Fishing boats to OPC ocean racers to F1 sprint racers - to recreational hi-performance hulls - even for RC Model hulls.

The Secrets of Tunnel Boat Design publication by AeroMarine Research will be an outstanding aid to your tunnel boat design activities. The unique design methods are developed by AR and published for high performance Tunnel boat designers and owners. These methods are outlined in complete detail, and form the basis for the powerful Tunnel Boat Design Program, and so the TBDP program itself is best utilized with the STBD.
You'll find that the new 13th edition of the Secrets of Tunnel Boat Design is a remarkably thorough description of how aerodynamic and hydrodynamic forces work together to generate performance characteristics of tunnel designs. It is the only publication that captures such state-of-the-art research analysis and proving through race testing in a single available package. (There are many different designs and design ideas around today, but the other designers that have ideas that work, have done it through great expense, and usually aren't about to publish their successes). [check out free articles by Jimboat here]
Vee hull and Vee-Pad Hull design - the books and software all address advanced design techniques for design, performance prediction and performance enhancement for Vee hulls and Vee-Pad hulls too! Optimizing speed, handling and dynamic stability - even porpoising prediction and correction; chine-walking correction tips. See the FREE articles by Jimboat and the complete packages in AR's books and software. [check out free articles by Jimboat here]
[check out free publications by Jimboat here]
> For vee-hull owners, check out the Feature article - 'The Bottom Line'-"Why does a Pad make a vee Hull faster?"
> It's easy to make your tunnel boat go faster when you understand the engineering influences behind the design of speed. Check out the articles "What Makes a Tunnel Hull Work?", "Aerodynamic Lift – where does it come from?" and "What factors influence Tunnel hull performance?"
> Improve your tunnel boat and vee-hull performance with the articles: "Rocket Science!" (Aerodynamics, Efficient Planing Surfaces)
> Make these modifications to your tunnel boat or vee-hull, detailed in the article - "10 Tips for Increased Performance"
> Increase your performance hull's speed safely, tips outlined in the article - "10 Safety Mod's and Tips for High Performance Go-Fast Boats"
> Jimboat writes Feature article for HB February '05 Feature - '10 Smokin' Speed Secrets Revealed'
> Learn how Formula 1 and CART/Indy cars can help your powerboat go faster, in the article - "CART Performance Secrets for Powerboats"
> Speeds increased annually as the tunnel hull evolved, as outlined in the article - "The Short Course on Tunnel Boats"
> Learn the "tell-tales" of speed in the article - "Why do boats create rooster tails?"
> Dress your hulls running surfaces for best speed, with tips in the Feature article - "Surface Finish for Speed"
> Do steps really make a hull faster? Check out the Feature article - "Step by Step" - step design in powerboats
> Author Jim Russell writes on Tunnel Boat Design for Extreme Boat magazine with "Tunnel Vision"
> Author Jim Russell writes on Tunnel Hull design for F&PB with "Add Speed without adding Horsepower"
> Jimboat writes Feature article for HB April '04 Feature - 'Flight Path'
> Jimboat writes Feature article for HB Sept. '04 Feature - 'What a Drag - Trim Angle & Engine Height Reduce Drag & Increase Speed'
Get these FREE go-fast articles on tunnel boats and vee-hulls by author Jim Russell (Jimboat)
[click here]

Secrets of Propeller Design
The publication "Secrets of Propeller Design" shows how a propeller works to optimize your hull design/setup. Includes sections on fundamentals of propeller design, Pitch, Rake, Skew, Venting, Cupping, Propeller Types, Fundamentals of Cavitation, Ventilation, Blowout, Slip, Nosecones, Labbing, Gearcase design, Surface Drives, and Speed Calculation formula.

The "Secrets of Propeller Design" book ("History & Design of Propellers") presents 80 pages & 75 photos/illustrations as a detailed accounting of propeller design history, how the first "screw" applications were invented, and how they led to early ship propulsion. Outlining "How a Propeller Works", parts and functions of a properly designed propeller, including material selection and "advanced propping" techniques, cupping, gearcase design and nosecone application is outlined. Speed prediction formulae and propeller selection methods. This is a "must have" book for serious boaters, designers and enthusiasts that have "a need to know".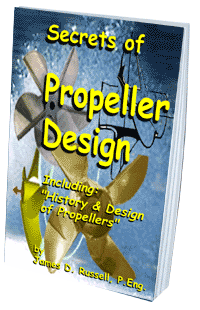 "I highly recommend the book Secrets Of Propeller Design by Jim Russell. He has the answers to your type of questions. The book will help you out immensely in finding what works best for you and understanding what's going on under the motor"..."That book is AWESOME! I bring it work leave it by the computer at home and read it over and over. There's so much useful info there". [James "Whipper", Prince George B.C. Canada, Oct 2009]

..."This is a "must have" book for serious boaters, designers and enthusiasts that have "a need to know".[Scream and Fly on-line magazine, Feb 2006]