AeroMarine Research® has received testimonials from highly successful users of the "Secrets of Tunnel Boat Design", "History of Tunnel Boat Design", and "Secrets of Propeller Design" books, the "Tunnel Boat Design Program" software for tunnel hull performance analysis, the "Vee Boat Design Program" software for Vee hull performance analysis and the "PropWorks2" software from over 40 countries around the world.

Many successful experts in today's tunnel boat business have the benefit of these unique AR® tools - including leading tunnel boat designers; popular builders; winningest racers; fastest record holders. Even the most powerful nautical force in the world (can you guess who they are?) uses AR® software! Many users still ask us to keep their trade names confidential....the reasons for this are always the same - "those that know how a tunnel boat really works aren't telling - they're just doing it!".
.
---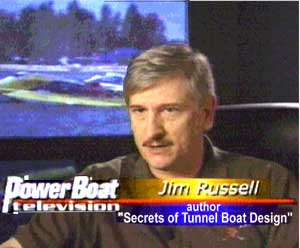 See author Jim Russell on SpeedChannel's 'Powerboat Television Show' ....interviewed about Tunnel Hull design, and his new 12th edition "Secrets of Tunnel Boat Design" book.
The Latest edition Secrets of Tunnel Boat Design book was featured in HotBoat magazine and reviewed in Powerboat Magazine, Family & Performance, Raceboat Int'l, World of Powerboats, Powerboat & RIB magazine and Scream&Fly on-line magazine.
TBDP Version 6 software was announced in Hot Boat Magazine, and in RaceBoat International. Scream & Fly on-line magazine published their review of TBDP. (Check out the review at the S&F site, or dload your own copy). Read the Scream & Fly book review on STBD.
You may have seen the first announcement of the TBDP computer software in a feature technical article published in Powerboat Magazine (October 1990), or the first commercial announcement of TBDP Ver 4, in Hot Boat Magazine (April 1993). There have been many more reviews by worldwide performance boating magazines...check some of them out (see right panel =>)
Read the "Secrets of Tunnel Boat Design" book's foreword, written by F1 champion and host of Powerboat Television, Mark Rotharmel.
See also, some of our testimonials.
---
The NEW TBDP Version 8 is the only commercially available computer software product on the market, designed specifically for tunnel boat performance and Vee hull performance design and analysis.

Recommended in many performance powerboat magazines...including: Powerboat, Hot Boat, Family & Performance Boating, Race Boat International, Powerboat & Rib, World of Powerboats, Extreme Boats, Powerboat & Ski, Australian Powerboat, RC Boat Modeler, Scream&Fly,

BoatDesign.net, RIB magazine,

and other hi-performance boating magazines.