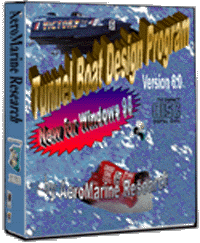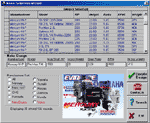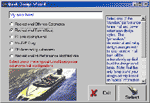 Fonts
Predicts Performance...Top Speed", "Acceleration", "Elapsed Time""Angle of Attack", "Wetted Surface", "Dynamic Stability", "Lift/Drag Coefficients". A unique "Optimizing" logic gives the TBDP© "artificial intelligence" to predict the ideal performance characteristics for your hull configuration and even makes recommendations for design improvements!.
AeroMarine Research®
67 Highland Crescent, Cambridge, Ontario, Canada, N1S 1M1

Or call their Hotline:
1-519-622-3987
or email: jimboat@aeromarineresearch.com
or... on the Web!
August 16, 2003 - AeroMarine Research® has just introduced the newest version of the world's only computer software for the design and performance analysis of tunnel hulls and performance boats. Now anyone can design, test and optimize their tunnel designs the easy way - off the water.
The NEW TBDP© Version 7 software is the best tunnel boat design and performance analysis program ever! If you purchase the TBDP© software now, we will include the new 13th edition "Secrets of Tunnel Boat Design" book FREE. The price will be only USD$399 (a $69 savings!) plus shipping. ORDER NOW!
New Design Wizards!

Eight NEW Wizard Design Features; Propeller Wizard; Motor Selection Wizard; Miscellaneous Weight Wizard; Angle Increment Calculator; Quick Design Wizard; WAngle Calc Wizard; Deadrise Wizard; Power Calc Wizard; Velocity Calc Wizard; and an Expanded Wizard Tutorial.
---
New "Tunnel Boat Design Program", Version 7

is a powerful computer-aided-design technology for tunnel boat and high performance powerboat applications. TBDP© can develop design parameters, compare design alternatives, and predict your Tunnel hull or modified-vee hull performance under any operating conditions.

Through research and testing in wind tunnels, and years of racing campaigns, AR® developed sophisticated design relationships that allow you to easily do an accurate analysis of complex tunnel hull or powerboat performance. You can use the TBDP© for any size of Sport Recreational tunnel, offshore catamarans, circuit racing tunnels (F1 / IOGP), Ocean racers (OPC) or Recreational tunnels, including modified tunnel (Mod-VP) style hulls, even RC performance models.
ORDER NOW!
User-friendly Screen Presentation
Testing, building and tuning that used to take weeks or months can now be done in seconds!…Off the water!

With user-friendly design screens, you quickly analyze performance changes for differences in design details, and easily predict the effect on dozens of Key Performance Indicators like. ORDER NOW!
New Design Input Controls
TBDP© allows for dozens of design input controls, such as different "aerofoil" tunnel designs, and will diagnose the influence of "steps", "motor setback" or "cockpit design", "lower unit design" and will even predict the effects of performing at different "operating altitudes", or in "salt water". See what else is new in Version 7!

Impressive on-screen graphics!
The software includes impressive on-screen graphics to illustrate predicted trends of over 40 vital performance indicators. On-line graphic Help screens make it easy to check the documentation, and there's even a direct access to AR's Web page. On-line design data validation provides an automatic check of design parameters. The software package comes with a comprehensive User's Manual. ORDER NOW!

Predicts Powerboat Performance!
This is the only comprehensive predictive performance design and analysis computer software package available specifically for high performance powerboats and performance Tunnel Boats. It's just what's needed for the serious designer, builder, driver, or performance enthusiast..

Even Determines Propeller Sizing!
Approximate propeller sizing can be obtained based on your motor specifications. Engine RPM is predicted by TBDP7 based on your design, setup parameters and operating performance; your predicted propeller pitch is calculated and displayed with recommendations. ORDER NOW!
---
See what others say...
about the NEW TBDP© Version 7 software!
Many of the most successful experts today's tunnel boat business have the benefit of these unique AR® tools - including the leading tunnel boat designers; most popular builders; winningest racers; fastest record holders. ORDER NOW!
---
And Now...
Check out NEW RELEASE PropWorks Version 2.8
Include links to the company Web site wherever you can. Be sure to update the site to include the information you are referring them to. It's easy to include hyperlinks in your newsletter that will take customers right to your Web site or get them started with an e-mail to your sales staff.

TBDP© Version 7 is available for $399, and includes a copy of the popular 12th Edition "Secrets of Tunnel Boat Design©" book.