New 2016 Motor Wizard update (AeroMarine Research®) for TBDP© and PropWorks2© is included FREE with purchase of "Tunnel Boat Design©" and "Vee Boat Design©" software & PropWorks2© software.
The 2016 Motor Wizard now has over + OEM engine choices in Motor Wizard database!

The recreational, racing and industrial manufacturers specifications are all there - Mercury Marine, Merc Hi-Performance, Bombardier, Evinrude/Johnson, Yamaha, Suzuki, Nissan, Honda, Tohatsu, Mariner, Volvo, Mercruiser, Steyr, OMC, Volvo Penta, Ilmore, Cummins, Cat, Yanmar, MTU. The OEM factory correct MaxHP, Height, Weight, RPM and gear ratio will be automatically input to TBDP©/VBDP© and PropWorks© software.
The motor database update now has over + engine specs, including new jet-drive outboards, new Evinrude G2, new Mercury Racing 400R, Yamaha 350hp V8 outboard, Evinrude E-Tec specs & 300hp V6 E-Tec, new Mercury 350hp SCi Verado and Optimax ProXS engines and SevenMarine 557 outboard, UK Mariner, even the OXE diesel o/b.
Use the New Motor Design Wizard to easily input the dimensional information for your setup. Just select your OEM engine manufacturer and highlight your model from the over + listed.

2016 MOTOR WIZARD©
UPGRADE (only) AVAILABLE - Available to current TBDP©/VBDP© and PROPWORKS2© USERS.

If you already own TBDP© or PROPWORKS2©, and you want to obtain the LATEST MOTOR WIZARD© SOFTWARE UPGRADE, you can order on-line. Upgrade includes software only.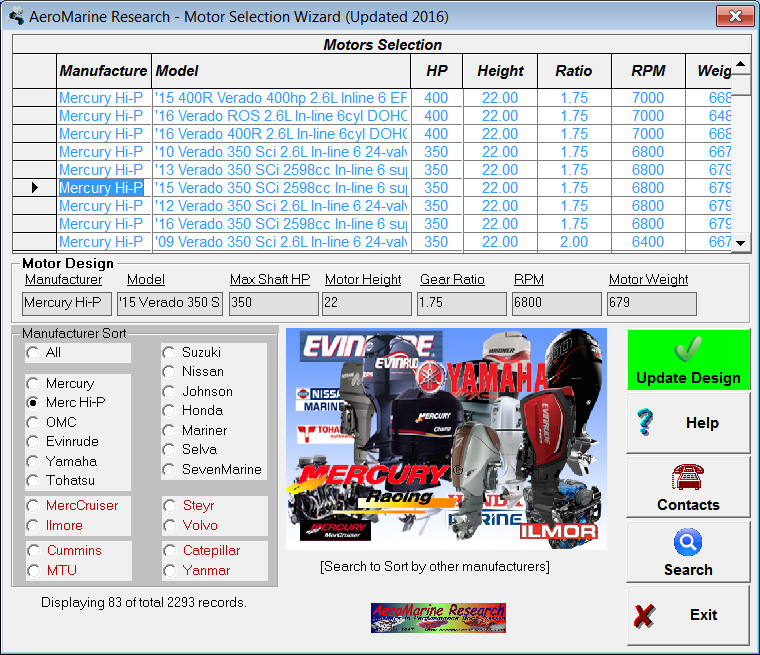 Simply select your engine from the list of over + OEM specs!
Easily find your own engine by selecting your engine manufacturer from the "Manufacturer Sort" list.
Then highlight your own engine model from the "Motors Selection" listing.
Click "Update Design" when you have your engine highlighted, and all of the OEM engine specifications are automatically input to the TBDP©/VBDP© or PropWorks2© software!